Shop
Kretschmer, Franz: *Adnet Chronicle****- the Marble*. Adnet 1986. Published by the community of Adnet / Salzburg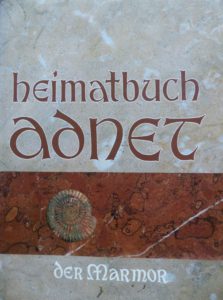 Marble from Adnet – the richly illustrated first volume of the planned Adnet Chronicle (comprising 384 pages) presents the almost 2,000 year-old history of the usage of this splendid, decorative stone which is famous throughout the world. Already the Romans began quarrying the Adnet marble in the first centuries of our time. But not until the turning of the 2nd millennium was its quarrying rediscovered. Since then and up to now in an increasing fashion, this stone has been used in numerous religious and secular edifices as well as in important art monuments.
---
Uhlir, Christian F.: *The Adnet Marble **- Origin, Material, Quarrying, History and its Importance as Cultural Heritage*. Norderstedt 2011. Publisher: Books on Demand Ltd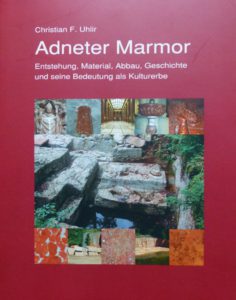 This book was made possible by an EU-project entitled Historical Stone Quarries of the CHC research group at Salzburg University.
---
Various marble objects such as balls, vases, bowls, plates, mortars and so on are available for purchase at:
Adnet community offices
Directly in the marble museum

Tel: +43 (0)6245 84041
Fax +43 (0)6245 84041-33
Email: gemeinde@adnet.info
Address: Adnet 18, 5421 Adnet